Perspectives From The Future(s) | Transcultural Leadership Summit 2022
The future is unpredictable. Increasing complexity of global value creation, climate change, pandemics, wars, and many other factors radically challenge our way of living, cooperating and leading. They undermine traditional visions of the future that we rely on in order to plan, feel secure and gain the confidence to invest in tomorrow.
On the 10th and 11th of November 2022, the Transcultural Caravan Network is inviting you to join the Transcultural Leadership Summit (TLS) as a hybrid and decentralized event at Zeppelin University. The TLS is a platform for exchange and transcultural learning, tackling questions of leadership and cooperation in times of global interconnectedness. Since 2016, this two-day conference at Zeppelin University has been developing a growing network and providing a platform for renowned experts from business, politics, civil society, and the arts to share their expertise, learn from each other, and engage in debates with students, professionals, and academics from all over the world.
We look forward to discussing on the 10th and 11th of November 2022 with our audience about the Futures of transcultural leadership. More information about the agenda, speakers and tickets you can find on the website of the Transcultural Leadership Summit. You can buy your tickets here. Online participation is free.
To reimage the futures, Johanna had the chance to interview Jacque Njeri, a digital artist from Kenya, before our summit to talk about Afrofuturism and how she is imaging the future.
Artist Jacque Njeri about her approach on afrofuturism.
Jacque Njeri, a Digital Artist currently based in Nairobi, Kenya, creates visual artworks of an African continent in a SciFi setting of a maybe not so far away future. The genre she is contributing to, is commonly known as "Afrofuturism" an aesthetic where African culture is connected with a futuristic or technical setting. As we found her very personal interpretation of the African future very suiting for the topic of this year's Transcultural Leadership Summit, Njeri agreed to answer us some questions about her inspirations and motivation.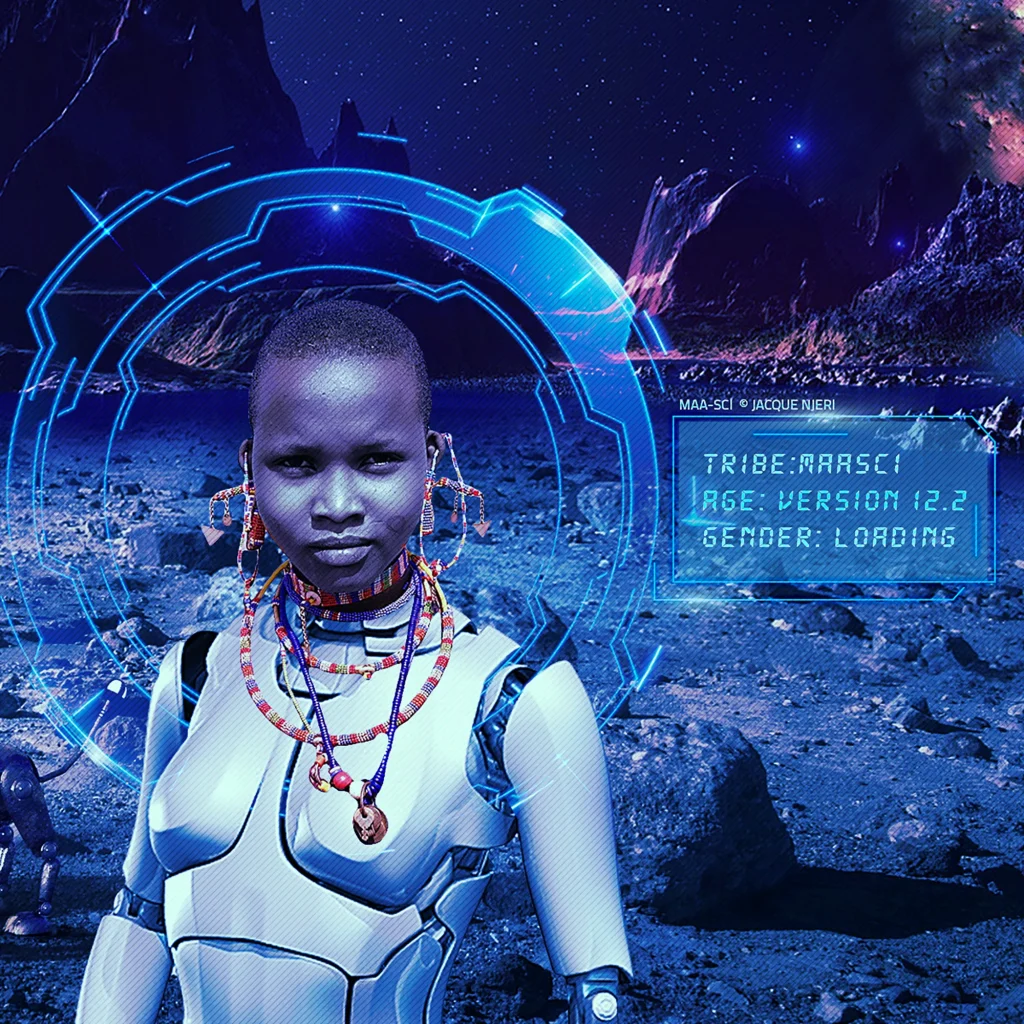 In her most recent project, "Genesis", she revisits her tribal origins where she visualizes the Kikuyu story of origin which is centered on a matriarch in a mystical, unified with narratives and nature that surrounds them with a futuristic perspective. With "MaaSci" she focused on the imagination of the Maasai people of Kenya in a Sci-Fi environment.
"The first afrofuturist movie that I came across, was Pumzi by Wanuri Kahiu", the artist recalls. "I remember watching it in my early teenage years and it did something to me. That was my earliest influence into afrofuturism." Apart from that, it was not necessarily a certain event that impacted her current art style.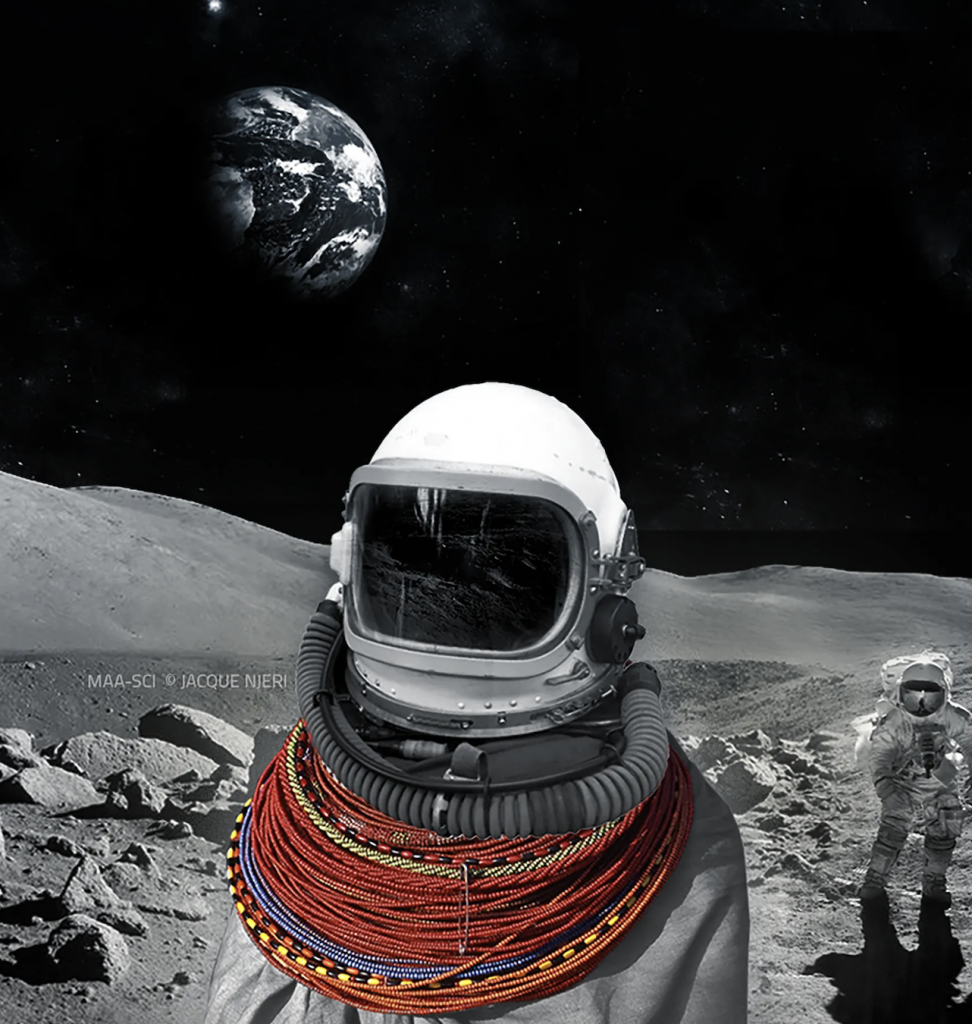 Njeri, who first pursued a Design degree in Nairobi, is inspired by the environment around her, by media and other artists. "Its not necessarily something major", Jacque says. "It's the little things that make you question what the future could look like." She describes being captured by an impression and finding herself trying to imagine what the same object would look like in the future.
For some of her projects, she uses already existing photographs and turns them into the reflections of her imaginations of the future. For her project "Genesis" however, also displayed on her personal website, she worked with models and did a photoshoot as a groundwork to her artistic creations.
While displaying one of her earliest projects, Jacque got a lot of positive feedback by people curious to learn about the African continent. "Still they admitted that they would not automatically imagine it would be possible for Africans to space travel." These experiences gave rise to her mission to open up a dialogue about this certain topic:
"The idea is to start conversations around subjects that people would not normally associate with the African continent."
Inclusivity and the idea of cultural equality play an important role in Jacque's vision of the future. "I like to think that every culture, that is very strong, and that has a positive impact on the world, is inclusive. And I was looking at an article, where it was written that at the end of the world, the world is going to be very homogenise that means, all races will have interacted, all races will have – you know – merged together, and I tend to believe that." Jaques vision of the future is full of hope and optimism, values that definitely come across looking at her creations: A summary of what the world should look like in the future according to her dreams?
"Just like a beautiful blend of everything the world has to offer."
Ideally, the artist does not just want to alternate the way people think about Africans, she also wants to initiate change in the real world. "People of Colour are not normally seen in very futuristic films or narratives in general. But the future is not white, the future is not a very narrow vision, where different cultures are left out. Id like to think afrofuturism is a very large bracket for people of colour. Ideally, just creating these images is also cementing a possibility into someones mind, that there is a value to their identity and that their identity is included in a future perspective."
Especially for people of colour, Jacque goes on, there would exist a debate about not just to fight for representation, but also to build your own narrative instead. "In light of that, there won't be African representation in the future without the direct injection from an African Perspective", Njeri says. Her art, in a way, embodies both strategies and thus, hopefully inspires others to broaden their horizon and become conscious of the question of culture diversity in futuristic art.
Thinking about the relation between past, present and future, we have the common idea, that learning about the past inherently shapes our visions of the future. Njeri has come to believe that not only is this true, but you can also think of this mechanism the other way around. Creating representation of diversity in our images and stories about the future, enables and empowers individuals to become curious and willing to dive deeper into their cultural past their very own past. This is what motivates Njeri: Giving people a boost in confidence, just letting people know that they can be a part of a certain scenario and inspiring people to embrace their culture.
We will be looking forward to the artists next project as she is currently studying about NFT and AI art in order to include the aspect of futurism also on a technical level: "When I talk about myself being an afrofuturist then I have to embody all the forward facing techniques, so that my bio also speaks to my work."
Join the Transcultural Leadership Summit 2022 and explore the futures with us! More information about the agenda, speakers, and the Futures Literacy Laboratory on transcultural leadership you can find here.