After Joseph spent four months as a volunteer on Lesbos, he lets us in on his experiences there through this article. Drawing on notes from his personal journal, he shares an uncompromising assessment of the problems observed in the field of professionalized humanitarian aid and reveals a melting pot of actors and motives that create a system full of contradictions. It appears that while there definitely is a real need for help, it is not the focus of attention.
Moria Part I:
The Sudden Illumination of a Pathological System
On the morning of Wednesday, the 9th of September 2020, there is not much left of what has been the largest refugee camp in Europe. Moria on the Aegean island Lesbos burnt down in the night.
On the surface and to the eyes of most European observers, the place which fell victim to flames has been a shelter for thousands of refugees trying to reach the European continent. Looking behind the pictures, news and calls for financial aid, but at the political dimension of the event, Moria was and remains one of five Greek 'hotspots' planned and funded in 2015 by the European Commission. These camps on the European border were designed to "inject greater order into migration management"[1].
After the fire many refugees held protests, demanding to be evacuated from Lesbos. Almost all of them were 'tent-less' and had to live on the streets without food, water or medical care. While politicians debated if and how many people should be evacuated, work on a new camp rapidly began. It has been installed 4km away, known as "Moria 2.0".
This quick setup of "an even worse camp", as Samba (26), who has lived in both camps, calls it, showcases a lot of the motives, actors and structures involved in this refugee crisis: EU organizations, the Greek state, NGOs and each individual volunteer all take part in the matter, together enabling what cannot be seen as a "humane and human approach".
And while Moria 2.0 might be a concrete and current manifestation of the larger issue, the lack of attention towards the refugees and their needs is at the heart of the problem. One aspect of this is the result of migration policies such as the installation of 'hot spots', whose now obvious dehumanizing effects have made Moria a symbol of the officially unspoken European policy of deterrence.
An Object of European Union Policy
European Council President, Charles Michel, stressed the double-sided mission of Greek refugee policy after his visit to the Greek-Turkish border in March 2020[2]: "We trust [Greece] because we know even if the task is very difficult, very complex, that it's very important as Europeans to protect our borders and at the same time to show respect for international law and for human rights."
Similarly, European Commission president Ursula von der Leyen underlined, after the camp in Moria burnt down[3], that "European values are not for sale. We will take a human and humane approach. We must always call out human rights abuses whenever and wherever they occur". At the same time, she is thankful to Greece for being the "shield of Europe"[4].
This includes practices that are illegal according to international law, such as pushing back immigrants (Greek authorities and FRONTEX[5]), and 'anti-shelter' refugee camps, "designed to deter future asylum seekers", notes researcher Daniel Howden.[6]
The EU would never admit that the camps are designed to deter and officially condemns bad conditions[7]. 'Deterrence' is in fact not used by officials who prefer to talk about 'avoiding pull factors', which is the same. Foreign policy spokesperson of leading German CDU/CSU party, Jürgen Hardt states: "If, with the Greek government, we got the people off the islands and brought them to Europe, I am sure the camps would soon be full again. We would trigger a 'pull effect'. We would send the wrong signals to the refugees."[8]
In this double strategy, "humanitarian aid is instrumentalized", remarks Jerome Oberreit, International Secretary General of Médecins Sans Frontières. "Deterrence policies sold to the public as humanitarian solutions have only exacerbated the suffering of people in need. There is nothing remotely humanitarian about these policies. They cannot become the norm and must be challenged."[9]
Moria Part II:
Of Second-Class Treatment and Losing Sight of What Matters
Set up by the Greek authorities, with the help of NGOs, Moria 2.0 provides no showers and no protection from the autumn storms, which have already destroyed 80 tents[10]. People are hungry, receiving food only once a day. Most refugees sleep on pallets, some sleep on the ground. At the local supermarkets there are two queues: One for tourists and local people and another for refugees who are seldomly asked their name, most often they must show their "Ausweis" (ID) and their identification number.
One of them is Samba, who has worked for several NGOs as a translator. As many others, he observes how not all NGOs working in the Lesbos refugee camp seem to understand how they are part of the instrumentalization of humanitarian aid.
Non-Governmental Organisations Perpetuating the Illusion
When Moria burned, "Greek authorities knew they could rely on us. They offered a table full of small humanitarian tasks on which most NGOs directly pounced to get a 'piece of the cake'. Everyone was afraid of missing out and getting nothing. Each was certain to be replaced if they criticized the authorities." explains Dan Teuma, Director Programming of Better Days.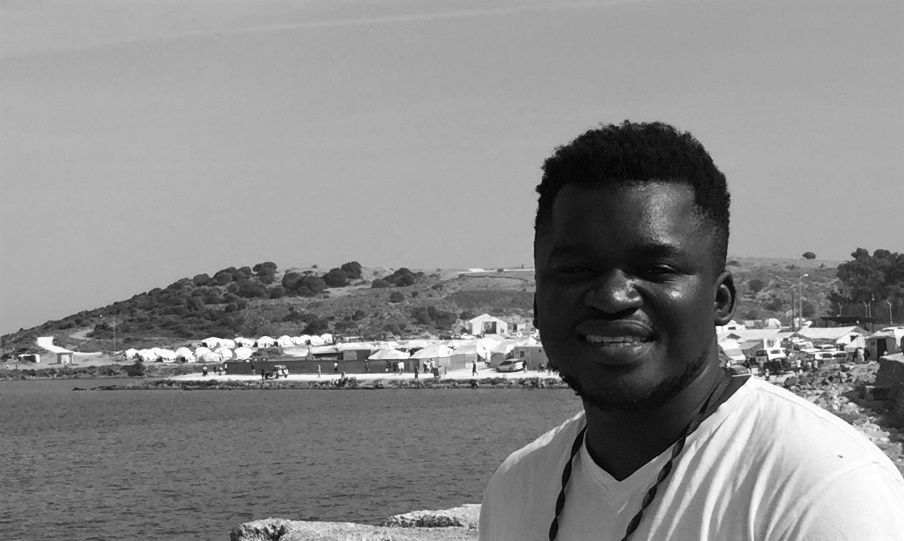 NGOs as organizations rely on funding and a need for help. In their pursuit of self-preservation, the purpose of their presence is turned on its head, as Samba points out: "They are sad if the situation is better for us and more people are brought to the mainland, because they must then reduce their project. But I am not here to be helped. I really want to go to Europe to work and to help people myself."
Mr. Teuma from Better Days criticizes the NGOs' reaction to the fire: "Had they used the collective leverage they have gained from providing essential services, […] they could have had a greater say on the conditions in which they accepted to work there. Instead, by accepting whatever was 'offered' they actively helped Greek authorities create the current even more deterring situation."
How some organizations reacted provides vivid examples. When Moria had been destroyed by the fire, Refugee 4 Refugees immediately chartered a helicopter to transport its volunteers to the new campsite and build the first tents. Boats Refugee Foundation (BRF) started a fundraising campaign which showed doctors operating from two cars transformed into a mobile clinic. Their first and only shift lasted less than three hours and created a lot of frustration among refugees who had waited for a long time, and mostly were just given painkillers in the end. When the organization tried to help refugees in the following days, they were refused access by Greek police. Instead of publicly criticizing the authorities for hindering their work, BRF communicated only the help they had provided and thus took part in creating an illusion.



Such NGO involvement on Lesbos implicitly validates or at least normalizes the way refugees are treated, if only by complying with Greek camp management when deciding on who gets what, which social programs should be in place, who is considered vulnerable and more recently which measures to take against COVID-19.
"I think people in the camp are suffering way more from the consequences of COVID-19 prevention measures – less healthcare and psychosocial support – than they would from the virus itself" explains a clearly frustrated Dr. Willem von der Havel, who used to work for a medical NGO on Lesbos. "They are a relatively young population and most of the high-risk patients have already been evacuated." The ethnologist and anthropologist Michel Agier describes such a relationship in his book about refugee camps and humanitarian aid as a symbiosis between "the hand that cares" and the "hand that strikes", resulting in a "care designed to control". For Dr. von der Havel this seems to be the case right now: "COVID-19 feels like a pretext to limit what freedom the refugees have. And we are part of this, applying the strictest measures possible to be able to keep working in the camp." Kim Verschueren, a volunteer doctor, articulates the frustration in a call to the NGOs: "We should remember we're in a European democracy and therefore take a stronger stand against policies that are detrimental to the people we are supposed to be helping".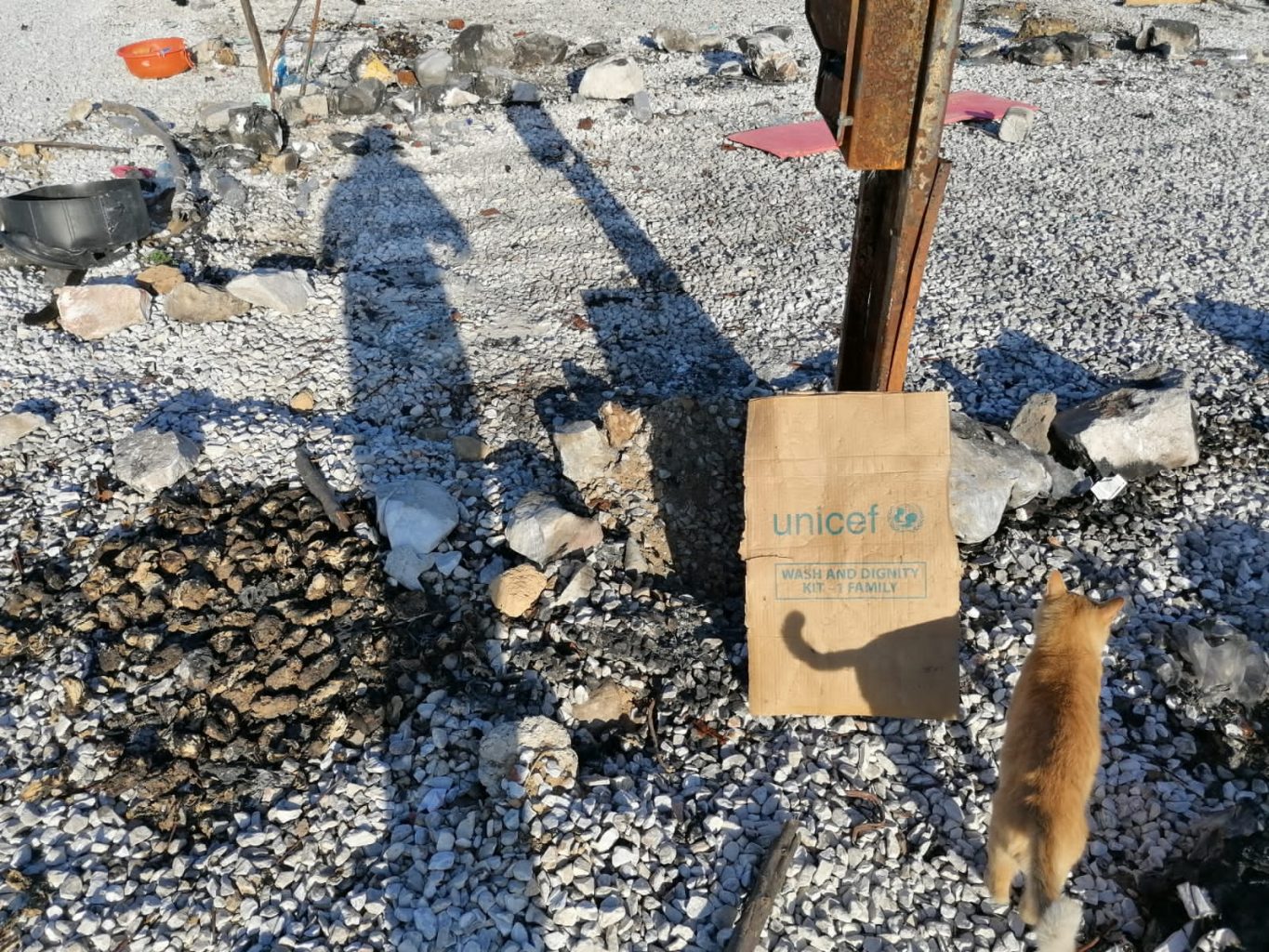 Moria Part III:
A Perilous Lack of Introspection
There is a specific 'design element' around Moria 2.0 that seems particularly out of place: NGO logos cover every tent, every place and every inch of most surfaces. Some areas look more like a theme park than a refugee camp. The number of volunteers and a lack of space and facilities have intensified the 'competition' among the NGOs, and its bizarre manifestations do not only appear in the form of lettering. The camp on Lesbos has become a sort of ideological battleground, as each of the organizations comes with its own notion of what is best for the population they have come to help.
The ego necessary to nurture such a belief – to know what is best for others – is considered one of the most problematic elements in NGOs as organizations by Alexandra Knott from SOAS University of London.[11]. However, not only the organizations, but the individual volunteers themselves need to be aware of their motives and self-perception, if a betterment for the refugees really is their goal.

Volunteers and Tourists
The number of volunteers coming to Greece and particularly Lesbos to help the refugees has created its own sprawling research field. Due to their structural proximity to 'conventional' tourists, these persons are mostly considered by researchers as volunteer tourists. Some humanitarian aid workers like to shorten that to voluntourist. Nancy Gard McGehee, an expert on sustainable tourism, estimates that over 10 million people a year spend $2 billion on volunteer tourism worldwide, which makes it the fastest growing sector of the tourism industry.[12]
Most would resent the label volunteer tourist, since it undermines the perceived gravitas of their work[13]. In search of an explanation for their behavior, Sociologist Zygmunt Bauman argues that, since social categories are less fixed in modern society, we engage in 'obligatory self-making' through consumption including, increasingly, travel. Social media allows us to showcase our 'desired' selves.[14] Overall, volunteer tourists in Lesbos are satisfied with their involvement, as the observations documented in multiple studies demonstrate.[15]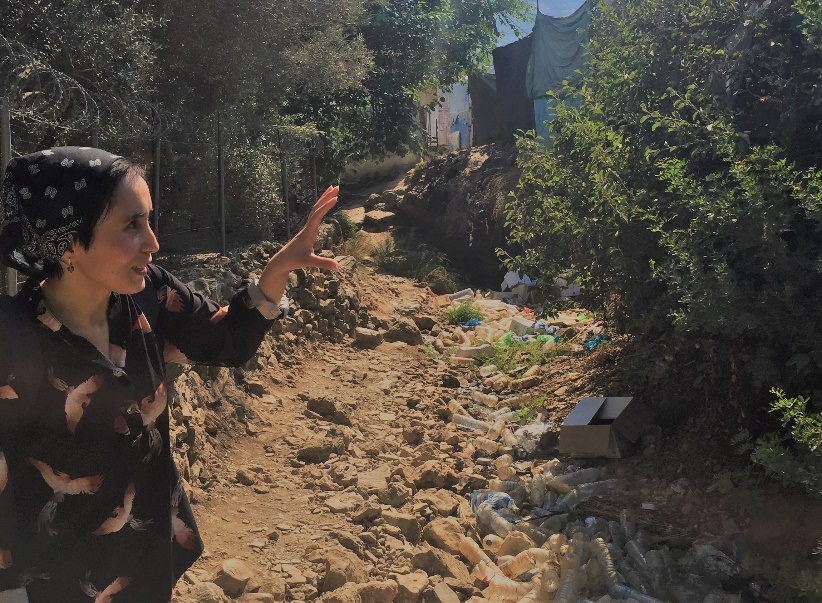 This is problematic insofar as volunteers are often not aware of their privileged position. They expect gratitude for their work or act in degrading ways towards the refugees, for instance taking and uploading photos of refugees without getting their consent. Knott observes that by a lack of socio-political awareness and acknowledgement of real differences, volunteers on Lesbos reproduce a border between themselves and the people they are 'helping' – although most initially came to challenge this "border".
Nikolaos Trihas has analyzed their motivations further. He explains that they come not only to help, but also to broaden their horizons, to challenge themselves, because they receive gratitude and because their mission makes their friends and families proud. As this shows, the refugees are not the guiding focus for the volunteer tourists. In the same way as they are not the focus of EU policy nor for all NGOs and their endeavor for self-preservation.


Moria – A Showcase of the Dilemma of Helping
Non-governmental organizations and their volunteers work with a lot of motivation, independence and flexibility, which are huge advantages compared to governmental players in the field. As every functioning democracy is based on a strong sense of civil courage, NGOs can be an expression of active citizens responding to the specific need of refugees on Lesbos. Their independence from governments allows them to be witnesses of political mismanagement and human rights violations by Greece and Europe.
But NGOs can also narrowly follow their own agenda to help, without paying enough attention to the refugees' agency. They can act without being self-critical or honest about the potentially negative impact of their work, same as each individual volunteer. If they do so, they actively create increased dependency on Lesbos.
Asked whether NGOs should stay or go, Samba does not beat about the bush:

If you came to help, leave!
If you are here to fight with us, stay!

---
[1] https://www.europarl.europa.eu/RegData/etudes/STUD/2016/556942/IPOL_STU(2016)556942_EN.pdf ↑
[2] https://primeminister.gr/en/2020/03/03/23458 ↑
[3] https://ec.europa.eu/commission/presscorner/detail/en/SPEECH_20_1655 ↑
[4] https://www.euronews.com/2020/03/03/greece-migrant-crisis-is-an-attack-by-turkey-on-the-eu-austria ↑
[5] https://www.spiegel.de/international/europe/eu-border-agency-frontex-complicit-in-greek-refugee-pushback-campaign-a-4b6cba29-35a3-4d8c-a49f-a12daad450d7 ↑
[6] Howden, D. 2020 Moria: Anti-shelter and the Spectacle of Deterrence. in T. Scott-Smith and M. E. Breeze (eds.) 2020 Structures of Protection? Rethinking Refugee Shelter, Forced Migration. Book 39 ↑
[7] "The Commission has made the funding available to ensure appropriate accommodation for all. However, the Commission cannot order the creation or expansion of reception capacity, against the opposition of the competent authorities," comments Maarten Verwey, EU's special envoy on migration ↑
[8] https://www1.wdr.de/mediathek/video/sendungen/die-story/video-moria-wo-europa-versagt-100.html ↑
[9] https://msf.lu/fr/node/893 ↑
[10] https://www1.wdr.de/mediathek/video/sendungen/die-story/video-moria-wo-europa-versagt-100.html ↑
[11] [13] Knott, Alexandra 2018 Guests on the Aegean: interactions between migrants and volunteers at Europe's southern border. Mobilities 13.3, pp.349-366. [11]↑ [13]↑
[12] https://www.reuters.com/article/us-travel-volunteers-charities-idUSKCN0P91AX20150629 ↑
[14] Bauman, Z. (2013). Liquid modernity. John Wiley & Sons. ↑
[15] Trihas, N., & Tsilimpokos, K. (2018). Refugee crisis and volunteer tourism in Lesvos, Greece. Journal of Tourism & Sustainability, 2(1), 42-56. ↑
---
Should we stay or should we go?
Moria and the Dilemma of Helping.
Von Joseph Oertel (Verf.) und Nicolas Roemer (Ed.)
Fotos © Joseph Oertel